Etta James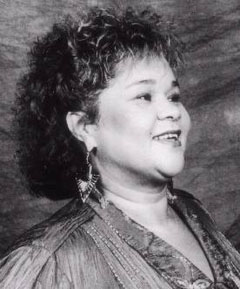 Jamesetta Hawkins
Born: 25-Ja-1938
Birthplace: Los Angeles, CA
Gender: Female
Race or Ethnicity: Black
Sexual orientation: Straight
Occupation: Singer
Nationality: United States
Executive summary: Soul Diva
Father: (paternity unknown)
Mother: Dorothy
Husband: Artis Mills
Son: Donto
Son: Sametto
High School: Girls High School (expelled)
Grammy Best Jazz Vocal Performance (1994)
Grammy Lifetime Achievement Award (2003)
Grammy (2004)
Hollywood Walk of Fame 2003
Rock and Roll Hall of Fame 1993
Rockabilly Hall of Fame
Passing Bad Checks Los Angeles, CA
Forgery Anchorage, AK
Drug Possession: Heroin Texas
Failure to Appear
House Arrest Kinshasa, Zaire
unknown detox facility Tarzana Psychiatric Hospital
Betty Ford Center
Risk Factors: Heroin, Cocaine, Psilocybin, Marijuana, Alcoholism, Arthritis, Smoking
FILMOGRAPHY AS ACTOR
Chuck Berry Hail! Hail! Rock 'n' Roll (18-Sep-1987) Herself
Sgt. Pepper's Lonely Hearts Club Band (24-Jul-1978)
Etta James (born Jamesetta Hawkins on January 25, 1938) is an American blue, soul, R&B, rock & roll, gospel and jazz singer and songwriter. James is the winner of four Grammys and seventeen Blues Music Awards. She was inducted into the Rock & Roll Hall of Fame in 1993, the Blues Hall of Fame in 2001, and the Grammy Hall of Fame both in 1999 and 2008. In the 1950s and 60s, she had her biggest success as a blues and R&B singer. She is best known for performing "At Last", which has been featured in many movies, television shows, commercials, and web-streaming services since its release. James has a contralto vocal range.
http://en.wikipedia.org/wiki/Etta_James
Soulilegend Etta Jamesil (72) on diagnoositud dementsus ning lauljanna võitleb lisaks ka leukeemiaga.
Jamesi tervislik seisund tuli avalikuks kohtudokumentidest seoses lauljanna ja tema abikaasa kohtuvaidlusega, kirjutab AP.
Beverly Hillsi raviarst kirjutab dokumentides, et James ei suuda kirjutada oma nime ning vajab abi söömisel ja riietumisel.
Legendaarne diiva ei ole laval esinenud juba 2010. aasta esimesest poolest alates, kuid põhjustas 2009. aastal ärevust, kui ei olnud rahul, et president Barack Obama ametissepühitsemise tseremoonial esitas tema laulu hoopis Beyoncé.
Etta James suri 20.01.2012.
http://www.ohtuleht.ee/index.aspx?id=410661

Etta James - The Very Thought of You

http://www.youtube.com/watch?v=lMjaVkxnLpg&feature=related
Etta James - At Last

http://www.youtube.com/watch?v=1fSY_S45rZ4&feature=related
Etta James & Cuck Berry - Rock n' Roll Music

http://www.youtube.com/watch?v=8Z2wuVp00-o
Etta James - I'd rather go blind

http://www.youtube.com/watch?v=OcwylnmACZ8
Etta James - Come Rain Or Come Shine