Ameerika rokkmuusik ja pianist.
Jerry Lee Lewis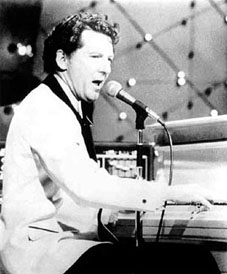 Born: 29-Sep-1935
Birthplace: Ferriday, LA
Gender: Male
Religion: Protestant
Race or Ethnicity: White
Sexual orientation: Straight
Occupation: Musician
Nationality: United States
Executive summary: Goodness gracious, great balls of fire
Jerry Lee Lewis (born September 29, 1935) is an American rock and roll and country music singer, songwriter and pianist. An early pioneer of rock and roll music, Lewis was inducted into the Rock and Roll Hall of Fame in 1986 and his pioneering contribution to the genre has been recognized by the Rockabilly Hall of Fame. In 2004, Rolling Stone Magazine ranked him #24 on their list of the 100 Greatest Artists of All Time. In 2003, they listed his box set All Killer, No Filler: The Anthology #242 on their list of "500 greatest albums of all time".
http://en.wikipedia.org/wiki/Jerry_Lee_Lewis
Jerry Lee Lewis - Mona Lisa
http://www.youtube.com/watch?v=IJ0nP5rg2ko
Jerry Lee Lewis - Whole Lotta Shakin' Going On

http://www.youtube.com/watch?v=8yRdDnrB5kM
http://www.youtube.com/watch?v=xraIf_cYRQE&feature=channel
Jerry Lee Lewis - Great Balls Of Fire
http://www.youtube.com/watch?v=4bB5xL577r4&feature=related